April Showers bring more than just flowers!
They bring beautiful ways to detail your custom bath with Glass .
Lemon Bay Glass, proudly servicing the "Suncoast" since 1985, specializes in all phases of glass and related products for both residential and commercial customers. And glass shower enclosures sparkle and are our true specialty! We design, create and work directly with the client, interior designers, and/or architects on a regular basis.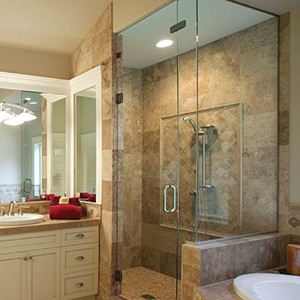 Lemon Bay Glass likes to be involved from the beginning of the bath/shower design. They have years of experience customizing shower enclosures and a wealth of knowledge when it comes to bringing unique features to the custom bath. Our professionals will ensure your custom shower enclosure will fit your bath and its style.
Frameless Shower Enclosures
Custom frameless showers bring flexibility to the bathroom oasis. In fact, customization is one of the most important factors in purchasing frameless glass products. Professional measurements and installation bring the whole project together. Lemon Bay Glass orders glass to one-sixteenth of an
inch of the measurement. They prevent projects from going wrong. The glass panels are constructed with thicker glass and complemented with a variety of hardware finishes holding the glass in place, such as chrome, brushed nickel, oil rubbed bronze, and occasionally gold or white. Frameless showers offer the bathroom an overall clean and fresh look.
Highest Level of Glass Services
The focus of Lemon Bay Glass has always been in providing the customer with the highest level of service and delivering satisfaction beyond expectations. Our glass shower enclosures sparkle and surpass expectations. We look forward to meeting with you and bringing your dreams to light. The team, continuing with a 35-year tradition, is ready to service your glass & mirror needs.
Connect with Lemon Bay Glass and discover your bathroom spa retreat.