Custom jobs are Lemon Bay Glass specialties!
We regularly work with decorative glass, textured, architectural, and a variety of exotic glass. Glass will be custom cut for cabinet inserts to meet your specific dimensions and needs. Custom glass detailing with glass brings texture and a unique pattern to any room. Inserts of glass can be crystal clear or textured, somewhat distorting the images displayed behind the glass.
The character of textured glass is derived from the irregularities within and upon the surface of the glass. Custom glass applications are a great accent for kitchen cabinets, china cabinets, and curio/glass cabinets of any kind throughout the home or business.
Take your space beyond the
builder grade selections through specialty glass applications.
Don't limit yourself to clear cabinet glass. You can turn ordinary plain cabinet glass into an extraordinary decorative glass. The look is clean, classic, and contemporary, the decorative solution for cabinet glass with a designer touch.


Stop in at Lemon Bay Glass and browse the many styles available for selection.
Custom Glass Etching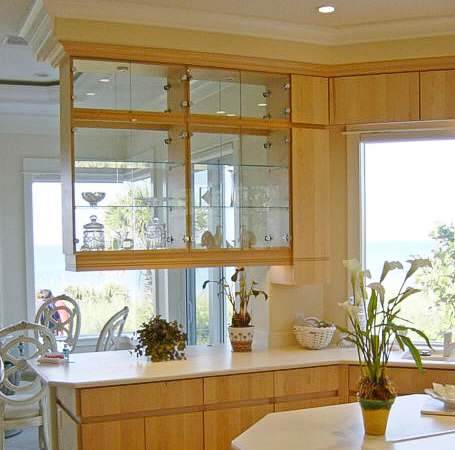 If you do not see a texture that fits your unique style we also work with a local artist that will bring your idea to life. Let us assist you in creating an environment that reflects your specific style. Let us introduce you to our custom artist.
Let us know your thoughts & ideas and we will do our best to make it a reality. (Edit)
Visit our gallery that showcases various Lemon Bay Glass projects. Bring us your ideas and we will make them a reality.