Lemon Bay Glass & Mirror is a locally owned and operated business servicing the Florida Sun Coast for 34 years. From their 6,000 ft.+ Englewood headquarters they are proud to design, fabricate, and then install glass products to homes and businesses around the Charlotte and Sarasota Counties, and beyond. They are your neighbor and look forward to working with the individual homeowner on new shower enclosures, hurricane window and door replacements, full home remodels, million-dollar homes or office building projects. It is 'Crystal Clear', they are your full-service Sun Coast glass & mirror contractor.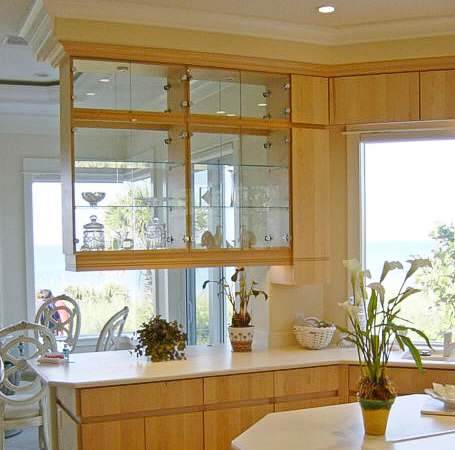 Lemon Bay Glass opens, brightens and adds beauty to FL homes and commercial buildings. Their installations compliment and match a variety of styles with seamless design and contemporary elegance, making your home uniquely your own. They are a well-known service provider of both locally and the U.S. manufactured glass products and have earned an outstanding reputation for their innovative and creative custom designs. Their projects, with coordinated efforts by local architects, interior designers and the customer themselves, create spectacular views and add ambiance. Best known for their design and installation of shower enclosures, they have extensive experience with the frameless shower, glass table and countertops, glass backsplash, residential/commercial windows and doors, glass storefronts, hurricane impact glass, glass sliding / bi-folding doors and more. Their state-of-the-art Englewood facility has an array of highly technical cutting devices, edgers, and polishers. These attentive and experienced glass experts are ready to fulfill and exceed your glass and mirror dreams.

Since 1985, their experience in project development brings years of knowledge, unique ideas and exceptional features to the drawing table. Cliff Gielow, owner, and Dan Morris are the lead individuals to this team of craftsmen that work with local business owners and homeowners to create spectacular results. John Rupert leads the way as window manager and knows all there is to know to meet the needs of Florida buildings; impact resistant as well as increased comfort from the heat. When you come into the showroom speak with Gina Hogan, she will walk you through an array of the latest glass materials and products, helping to make your decisions stress-free.

When the team is not in the showroom or working in the field, they can be found supporting the community through service. To name a few: 'Be the One Giving' Challenge, Meals of Hope, and the Christmas Tree on Dearborn. Constantly involved, the team shares their time and talent also supporting Englewood's area youth: Little League Baseball, Hawks Scholastic Sporting Clays, Miss Englewood Fast Pitch Softball, SWFL Baseball, YMCA & Sky Academy, Fellowship of Christian Athletes, LBHS Project Graduation, Junior Manta Basketball, Pop Warner Football, LBHS Manta Basketball, LBHS Manta Football, LBHS Manta Band, LBHS Manta Softball, LBHS Manta Tennis, LBHS Manta Wrestling and LBHS Manta Baseball. Mr. Gielow also currently serves on the Board of Directors for the Lemon Bay Sunrise Rotary and the LBHS Baseball Boosters. And, the company is a member of the Englewood Chamber of Commerce and the Charlotte Desoto Building Industry Association.
Step into the Lemon Bay Glass sparkling showroom and meet a team that likes to be involved from the beginning. Their ultimate focus is and always has been in providing the highest level of service and delivering satisfaction beyond expectations. They look forward to meeting you!